Here are some hits and tips when watching us on live stream.
Please try these first before reaching out to us in the live Stream comments
Problem: Sound and or Picture Keep Freezing
Cause: During the live stream the picture and/or sound keeps dropping out or freezing, this is most likely down to your own internet connection.
In order to watch and listen to the High Resolution Live stream you need to have a fast internet connection.
Resolution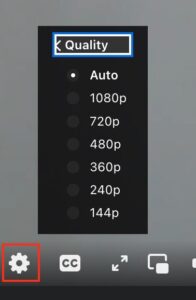 Facebook should automatically select the best resolution for your internet speed - however you can also manually select the stream resolution
How to Choose the Stream Resolution on Facebook
On the Facebook on the live Stream click the cog icon in the bottom right
By default 'Auto' is selected
We record the stream at 1080p
- Try selecting 720p
- if you still see / hear an issue try a lower number
See below to determine what you current internet speed is, and what resolution is recommended for your current internet speed
How to determine your Internet Speed
In order to determine your best resolution you need to determine how fast you are connected to the internet - i.e. your internet speed. This will have both a
Download speed - how fast you RECEIVE information FROM the internet - and an
Upload speed - how fast you SEND information TO the internet
Complete the following steps to determine your internet speed
| Step | Image |
| --- | --- |
| 1. Click the following link https://www.speedtest.net/ | |
| 2. Click the GO button to run a speed test | |
| 3. Record both the DOWNLOAD and UPLOAD speeds | |
Now use the table below to determine what resolution you can watch the live stream at.
Recommended Download Speed vs Video Resolution
The following table shows the recommended resolution based on your internet speed
Movies and TV shows requirements
Video Resolution
Recommended sustained speed
HD 1080p
5 Mbps/th>
HD 720p
2.5 Mbps/th>
SD 480p
1.1 Mbps/th>
SD 360p
0.7 Mbps/th>
Taken from - https://support.google.com/youtube/answer/78358?hl=en